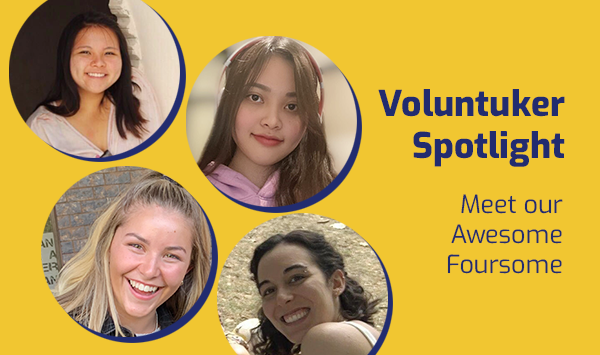 VOLUNTUKER SPOTLIGHT |
NICOLETTE&MENGCHU&PHOEBE&SARA

Have you noticed the amazing improvements to TukTuk's social media recently? It is all thanks to our new marketing team, the "Awesome Foursome". Nicolette is working on fundraising planning, Mengchu is working on social media planning, Phoebe is working on blog posts and Sara is working on all the graphic designs. Coming from around the world in Singapore, Cambodia, Australia and England, but there is no border between them! They are sharing their own strengths and making the best team! We are so lucky to have them all.
Thank you, Nicolette, Mengchu, Phoebe and Sara for all of your hard work!
We are currently looking for volunteers with the following skill sets to help TukTuk bring educational resources to Cambodia;
Goggle Ads
SEO
Fundraising
Marketing
Sales
If you want to get involved or know someone with skills that could help us spread positive education in Cambodia, hit that link below and say hi (we're friendly, promise).

Get Involved ⇢